1. Filmora
The Best Video Editor Alternative to Windows Movie Maker & iMovie.
Transform your video into a piece of art with simple drag & drop
interface and powerful editing tools with Filmora
Edit Videos with Minimal Effort
Rotate, merge, trim, split, crop and flip videos with a modern & simple UI.
Enhance videos with 800+ stunning effects
Transform your video into a piece of art with over 300 stylish effects.
Text & Titles
Add beautiful animated messages from our text & titles library
Music Library
Add tension, comedy, fear and love to every scene with royalty free songs and sound effects
Overlays and Filters
Transform a movie into something spectacular with our handcrafted overlays and filters.
Transitions & Elements
Take your video to the next level by adding impressive Transitions and Motion Elements.
Unleash creativity with Hollywood effects
Explore advanced video editing features that usually only professionals have access to!
Green Screen Change your background and create special effects using the Chroma Key (Green Screen) tool.
Audio Mixer Adjust the audio of each indivdual track on your timeline.
Pan and Zoom Add panning and zooming movements to still footage.
Advanced Text Editing Edit the color, size, font, and even animation of your text and titles.
Color Tuning Adjust the white balance and dynamic range of your clips.
Screen Recording Easily record the screen of your computer or mobile device.
Audio Equilizer Fine-tune your music and audio tracks. Video Stabilization Eliminate the effects of camera shake.
Split Screen Play two or more clips simultaneously.
3D Luts Choose from a selection of color grading presets inspired by popular movies.
2. Adobe Premiere Rush
Feed your channels a steady stream of awesome with Premiere Rush, the all-new app for creating and sharing online videos. It's easy to use, works across all your devices, and it'll transform the way you create content.
Go from shoot to showtime in record time. Built-in camera functionality helps you take pro-quality video on your mobile devices. Editing is easy, with simple tools for color, audio, motion graphics, and more. Share right from the app to favorite social channels like YouTube, Facebook, and lnstagram.
Wow your followers with professionally designed Motion Graphics templates right in the app, or find hundreds more on Adobe Stock. Change the color, size, font, and more to match your personal brand. And take your videos from amateur to amazing.
Premiere Rush works across all your devices. Capture footage on your phone, then edit and share to social channels on your phone, tablet, or desktop. Everything is synced to the cloud, so your latest edit is always at your fingertips, anywhere you are.
3. Magisto
Make outstanding social videos in minutes with the power of Magisto's smart video editor. Be a video superhero.
The fastest way to accelerate your video marketing and Scale your business with Magisto video editor.
Fast
Video storytelling as fast as writing a blog post
Easy
Video content made as easy as PowerPoint
Effective
Business videos as powerful as a personal meeting, as scalable as digital marketing.
The only end-to-end video marketing powered by A.I. A superhuman video editing team at your command.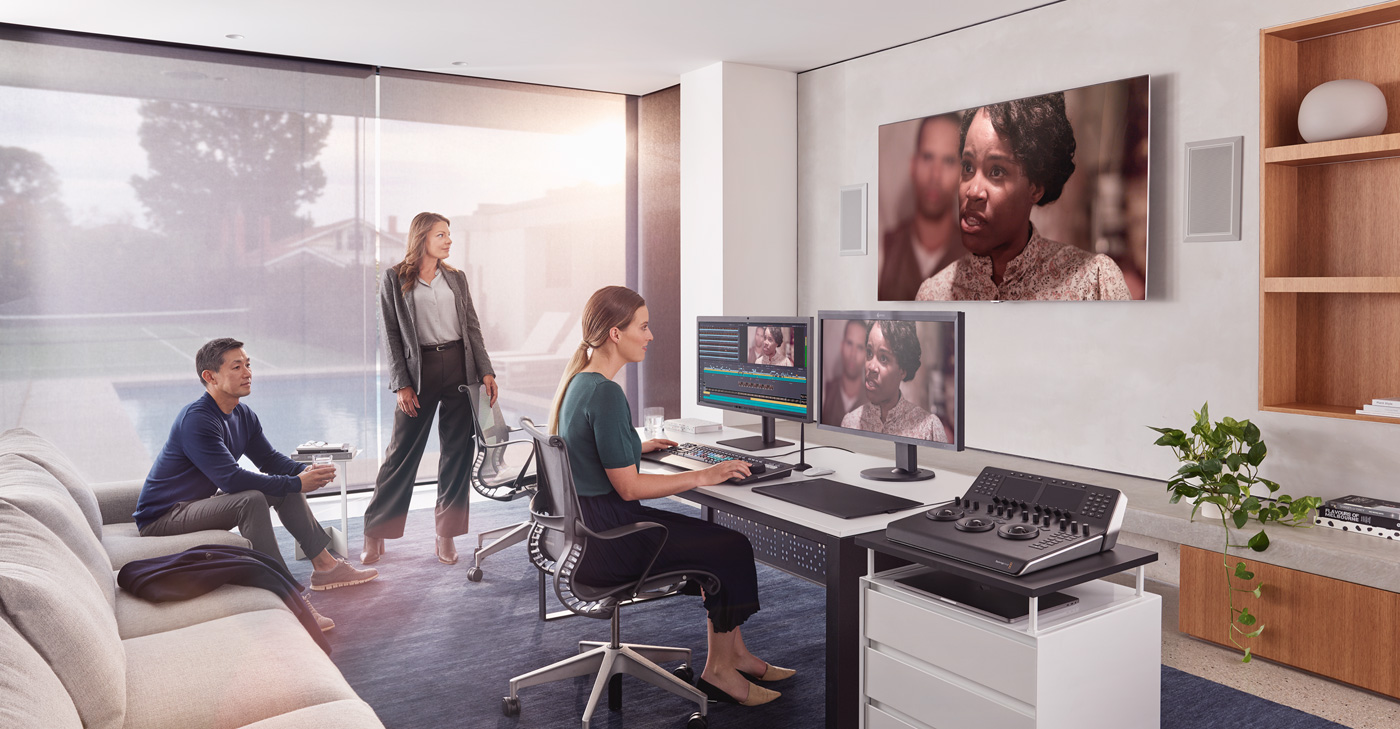 4. Davinci Resolve
Davinci resolve is the world's only solution that combines professional 8K editing, color correction, visual effects and audio post production all in one software tool! You can instantly move between editing, color, effects, and audio with a single click. DaVinci Resolve Studio is also the only solution designed for multi user collaboration so editors, assistants, colorists, VFX artists and sound designers can all work live on the same project at the same time!
Whether you're an individual artist, or part of a large collaborative team, it's easy to see why DaVinci Resolve is the standard for high end post production and finishing on more Hollywood feature films, television shows and commercials than any other software.
DaVinci Resolve 16 features a revolutionary new cut page specifically designed for editors that need to work quickly and on tight deadlines! The new DaVinci Neural Engine uses machine learning to enable powerful new features such as facial recognition, speed warp and more. Adjustment clips let you apply effects and grades to clips on the timeline below, quick export can be used to upload projects to YouTube and Vimeo from anywhere in the application, and new GPU accelerated scopes provide more technical monitoring options than before.
Plus, Fusion is dramatically faster and Fairlight adds immersive 3D audio. DaVinci Resolve 16 is a massive release with hundreds of features customers have asked for!
Designed specifically for editors working on high end fast turn around work such as television commercials and even news cutting, the cut page is all about speed. It's an alternate edit page with a streamlined interface and revolutionary new tools that will help you work faster than ever.
The cut page lets you import, edit, trim, add transitions, titles, automatically match color, mix audio and more. Whether you're delivering for broadcast or for YouTube, the cut page has everything you need to get the job done, all in one place.
Plus, the regular edit page is still available so you can switch between edit and cut pages to change editing style right in the middle of a job.
5. Animoto
Video making, made easy
Create impressive videos in minutes with Animoto's drag-and-drop video maker. No video editing experience necessary.
Increase Sales
93% of businesses using video report it's landed them a new customer.
Drive Traffic
Drive customers to your website with videos about products, services, or content.
Engage your Audience
Stand out in the social feed. Video gets more likes and shares than other content.
Add photos and video clips
Select a storyboard template or start from scratch. Then drag and drop photos and video clips right into your project.
Personalize your video
Quickly adjust colors, fonts, music, and more to customize your video. Match your own style or brand with ease.
Share and impress
Produce and share your video in moments. Wow friends and family or boost business sales and engagement.
Easy drag-and-drop interface
Simply drag and drop your own photos and video clips into pre-built templates to create share-worthy videos in minutes. No video editing experience needed!
Beautiful, versatile video templates
Our professionally designed templates offer you unrivaled flexibility. Easily customize videos to fit any brand or occasion.
Access to over a million stock assets
We've partnered with Getty Images to give you exclusive access to over 1 million stock photos and videos with our Professional and Business plans.