Top 5 Social Listening Tools
BrandWatch
Buzzsumo
Mention
Synthesio
SproutSocial
1. Brand Watch
Brandwatch is a digital consumer intelligence company headquartered in Brighton, England. Brandwatch sells three different products: Consumer Research, Audiences, and Vizia.
Discover instant audience intelligence powered by the largest influencer database of its kind.
Boost your social ROI by targeting the right people with pinpoint precision.
Whoever you're looking for, Audiences makes it simple to find groups of people based on what matters to you – their demographics, passions, professions, where they're based, and who they follow and engage with.
Powerful search, instant results.
Deliver timely, relevant, high-performing content that's tailored to your target audience.
Open a window onto any audience to see what they are talking about right now. Sidestep noisy global trends and discover marketing moments specific to your audience.
Challenge assumptions. Get inspired. Start crafting messages that truly resonate.
Develop data-driven marketing strategies with a deeper understanding of your consumers.
Add context by comparing your audiences. How do your followers compare to your competitors'? What sets your target customer apart from the general public?
By pinpointing what makes them unique you can deliver a message that stands out and speaks more directly to the right people.
2. Buzz Sumo
Early warnings give you more time to respond to risks – and opportunities. Create alerts for relevant brands, products and topics so you can respond first.
Buzzsumo crawls the web scanning for key terms relevant to your business.
Advance warning gives you time to respond rapidly when news breaks about your brand.
BuzzSumo monitors your competitors, brand mentions and industry updates. Alerts ensure you catch important events and don't get smushed under the social media avalanche.
Create alerts for the topics, brands and keywords that have an impact on your business.
Brand
Monitor mentions of your brand so you can respond at the right moment.
Topics
Keep up with industry news and the global zeitgeist
Competitors
Track your competitors so you can always stay one step ahead.
Products
See what people are saying about current and emerging products in your category.
3. Mention
Mention is a social media and web monitoring tool. The media monitoring tool provides real-time alerts for a company's keyword and allows users to monitor millions of sources in real time and in 42 languages. Mention can be accessed from a mobile app or the web-based app.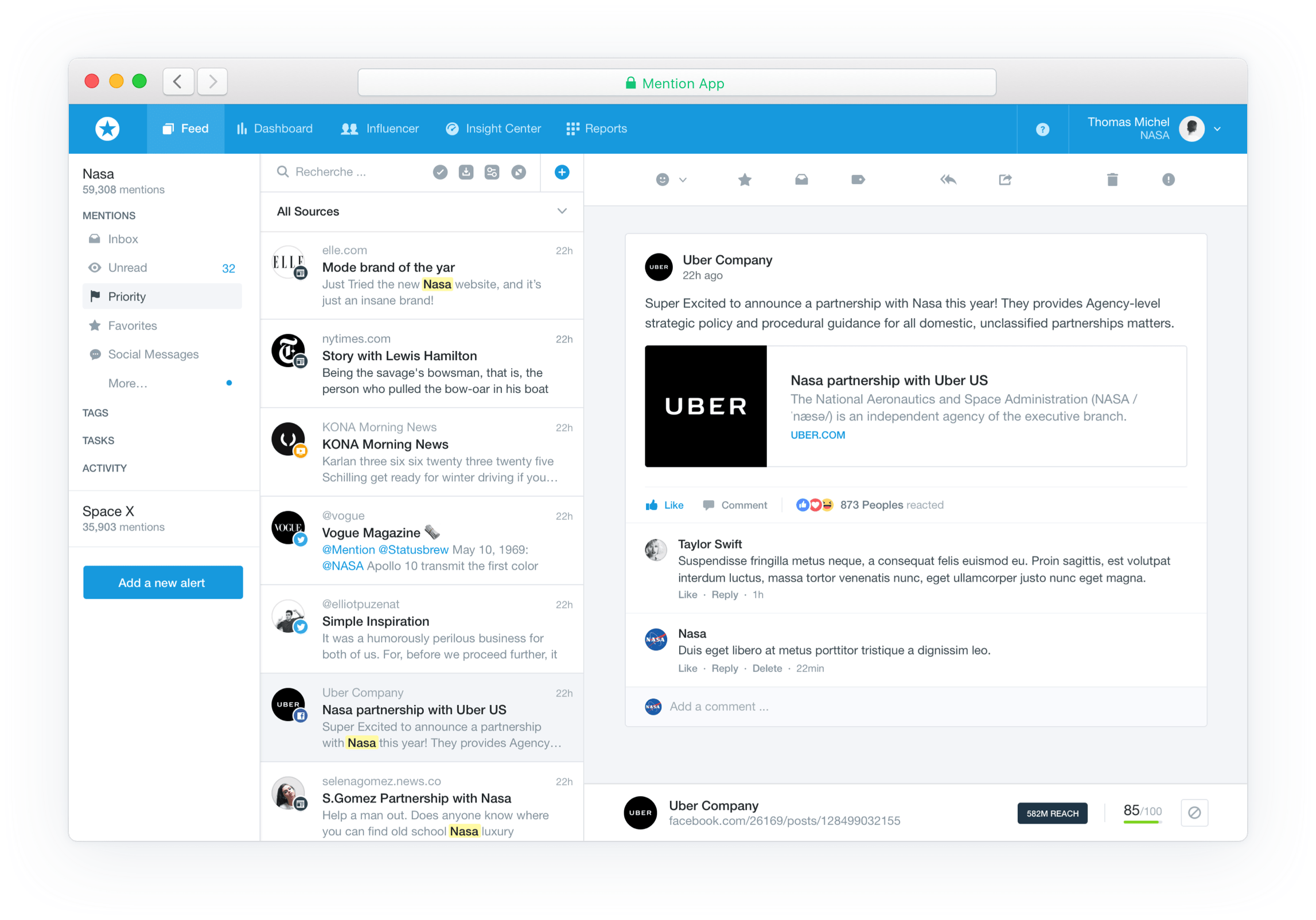 Increase brand awareness, improve your reputation, and build valuable
relationships on social media. Mention's powerful social listening
platform makes this simpler and more effective than any other.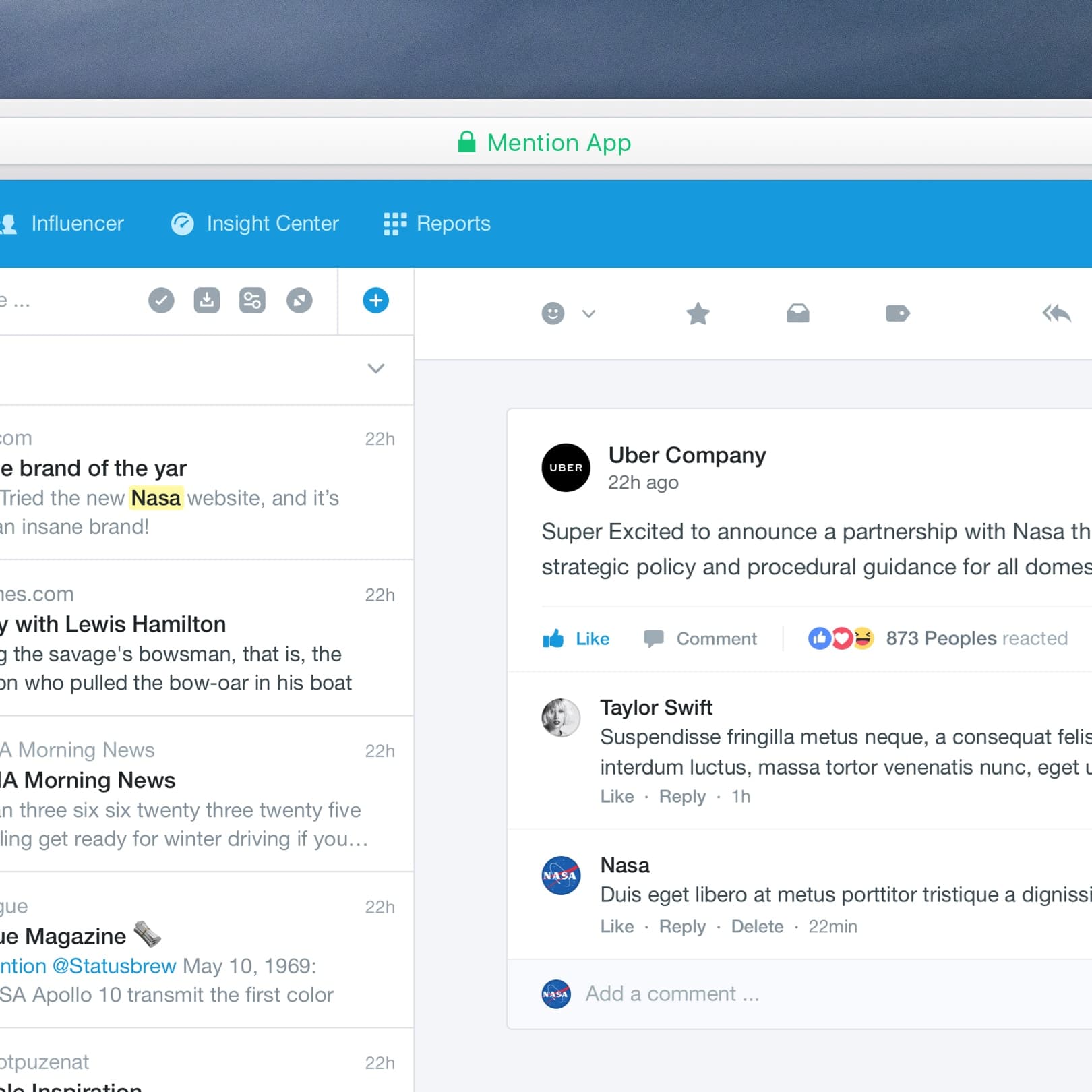 Improve Customer Support With Social Listening
Customers have embraced social media for their support needs. By setting
specific, real-time keyword alerts and assigning tasks to team members, you can
help customers as soon as they need it.
4. Synthesio
Track real-time conversations around the world with our industry-leading social listening dashboards and data coverage by Synthesio
Synthesio sources social listening data in over 80 languages to provide access to the most complete collection of data on the market.
All mentions in the Synthesio Social Listening Platform are enriched with robust metadata about the content, author, and tone – and can easily be filtered.
Social Media Listening dashboards can be infused with paywall data from LexisNexis, logo recognition capabilities, and vast quantities of consumer reviews.
Social Listening KPIs & Measurement
Analyze social listening metrics developed with traditional market research methodologies to meet client needs based on existing cross-channel media KPIs.
Deploy use case-based social listening KPI frameworks designed to accurately measure brand health, crisis impact, and campaign performance.
Export massive pre-filtered data sets via API or using our in-house tool, Reveal, to merge Social Listening metrics with the performance data in your SaaS business intelligence tool.
5. SproutSocial
Inform your business strategy with social listening. Understand the "why" behind the "what." Uncover actionable insights, overcome competitors and improve brand health using Sprout Social.
Use real-time brand monitoring and social listening tools to discover deeper insights and drive better strategy.
Incorporate social media listening seamlessly into your business strategy with Sprout's user-friendly platform. Speed up time to value with informative training and expansive education materials.
Own share of voice and distinguish your brand. Discover how consumers feel about your competitors, identify industry gaps and leverage opportunities to differentiate your business.
Apply insights beyond social media. Revamp marketing, customer care, product development and much more using listening data.