1. BuzzSumo
Analyze what content performs best for any topic or competitor and Find the key influencers to promote your content. BuzzSumo gives you insight into what content is working, and the influencers amplifying it.
Discover the most shared content across all social networks and run detailed analysis reports. Find influencers in any topic area, review the content they share and amplify. Be the first to see content mentioning your keyword; or when an author or competitor publishes new content. Track your competitor's content performance and do detailed comparisons.
2. MailChimp
Put your audience first and Know who you're talking to so you can say the right things. Look like a pro with elegant, easy-to-use design tools. Spread the word with social, email, ads, and more. The Mailchimp Marketing Platform will give you all the tools you need to launch and grow your business smarter.
3. Data Box
Make performance more predictable with Databox
Connect all of your data in one place, visualize performance trends, monitor progress toward your goals, make more informed decisions, collaborate and report as you go.
Databox is an easy-to-setup platform designed to remove guesswork–so you and your team can understand performance and make adjustments as you go. Quickly and easily build a consolidated view of your company's key performance indicators. Build custom views and deep-dives for each function in your organization. Systematically improve performance with one source of truth.
4. Wistia
Everything you need to grow your business with video. Wistia's hosting, analytics, and conversion tools make video marketing easier.
Get more out of your video marketing. Control your brand experience, customize the video player colors and controls to reflect your brand.
Help your audience take action and generate leads right from your videos.
Use analytics to prove the value of your videos and make better marketing decisions.
Turn a collection of videos into an immersive Channel:
Easily create a Channel that lives right on your site, ensuring your viewers see more of your content (and none of the competition's).
and don't forget to grab there free add-on SOAPBOX makes it easy to create relevant and timely content, fast. All you need to do is record, add in some transitions, and export your video for social media—with just a few clicks.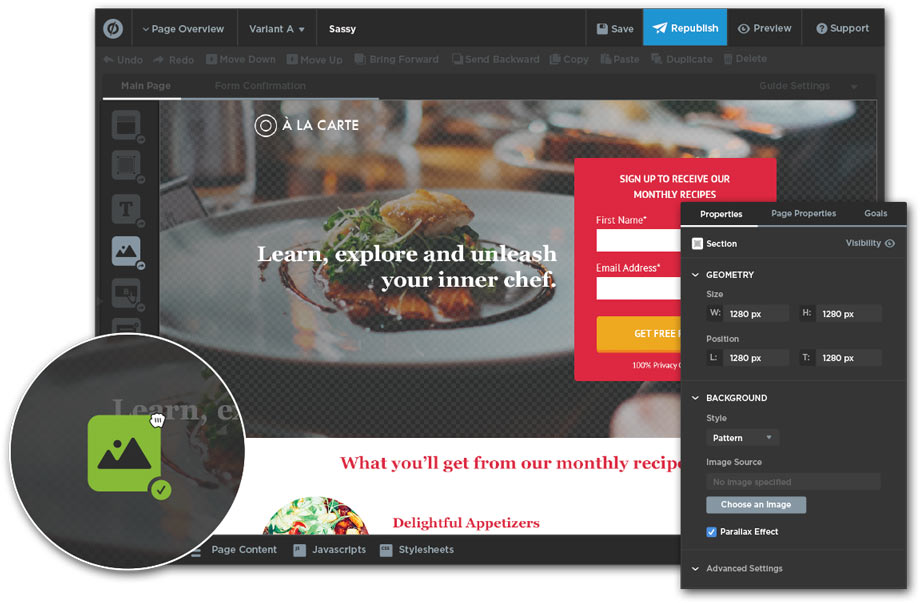 5. Unbounce
Convert More Leads and Sales From Your Ad Spend. Take your ad budget further and grow your business with Unbounce landing pages, website popups, and sticky bars.
Stop paying for clicks that never see your content. With Unbounce, every page you create is automatically optimized for lightning-fast delivery on every device.
The Unbounce Builder empowers every member of your team to rapidly build custom landing pages, popups, and sticky bars for any campaign. No coding needed.
Unbounce is the world's most sophisticated landing page builder. What's to love about it? Well, marketers love the drag and drop builder and airtight integrations. Designers love the ability to match any creative vision or brand guideline. And developers love how nobody asks them to do anything. Get 20% Off Your first 3 Months on Us!
Need An Extra Hand With Marketing?
As a business owner you wear multiple hats. Don't get bogged down with marketing tasks: Choose from hundreds of fully trained marketing apprentices ready to help your business grow. GET STARTED >>> http://bit.ly/2H1aOcA 
6. FullStory
Tired of hot air analytics? Replay it cool with FullStory
Products like Hotjar leave user insights on the table. Discover FullStory, the pixel-perfect session replay tool that gives you the power to know everything about your user's experience online.
Solve problems, find answers, and optimize your customer's digital experience with FullStory's easy-to-use digital intelligence platform.
Discover when, where, and why your customers struggle—costing you lost revenue. FullStory enables you to search, see, and understand your customer's journey by surfacing points of frustration, errors, and confusion so you can respond.
7. CheckBox
Use Checkbox's feature-rich survey software to build better relationships with your customers, employees, patients,or students.
Your custom-branded surveys can be accessed anytime using any standard PC or mobile browser. Set up email alerts to send you a tailored message as responses are received, or use real-time summary reports to keep you and your team on top of critical data.
Checkbox includes all the survey features you need at an affordable price. Create professional, intelligent surveys using Checkbox's extensive list of survey questions, smart logic, and branding options. Share your surveys quickly and easily via custom links, social sharing, and email. Run shareable summary reports or export raw data for in-depth analysis. Use triggered action items to close the loop and follow up with respondents.
8. Google Marketing Platform
Google gives you Easy-to-use tools for your small business. Get free tools to make the most of your marketing, from site and app analytics to intuitive testing and more.
Get better insights to drive your business.
Grow your business with solutions for all of your needs.
Our free analytics and optimization tools help you grow your business with smarter marketing.
Easy-to-use tools.
Simple tools with powerful insights enable you to spend less time analyzing data and more time delighting customers.
Big results for smaller budgets.
Access free and self-service solutions that take your marketing to new heights at little to no cost to your business.
9. Monday
Plan, Track and collaborate all your work in one tool. Monday is the easiest way for your team to manage multiple projects.
Monday is Visual, Easy and very intuitive. You can have your whole team up and running in five simple steps.
There's a template out there for every use case.
Start with the one that best fits you. This is just a starting point, you can customize it to fit your exact workflow and needs. Use as many templates as you'd like to address all your different workflows.
Decide what's important for your team. Use columns to capture and visualize all the info you need. Track time, see who's in charge of what, mark locations, add text, numbers, links, and so much more.
Keep all your conversations, files, briefs, checklists, and sheets in one place and say goodbye to useless meetings and painfully long email threads.
Boost productivity with an overview that gives you what you need, whether it's timelines, files, calendar, Kanban or more. It's all about having digestible data at your fingertips.
10. Hubspot
HubSpot is a full-stack growth software that includes marketing, sales, and customer service tools to improve all facets of your business.
Marketing Hub
Marketing software to help you grow traffic, convert more visitors, and run complete inbound marketing campaigns at scale.
Sales Hub
Time-saving sales software that helps you get deeper insights into prospects, automate the tasks you hate, and close more deals faster.
Service Hub
Customer service software to help you connect with customers, exceed expectations, and turn them into promoters that grow your business.
With tools to make every part of your process more human and a support team excited to help you, getting started with inbound has never been easier.