1. Screaming Frog
The Screaming Frog SEO Spider is a website crawler, that allows you to crawl websites' URLs and fetch key elements to analyse and audit technical and onsite SEO. Download for free, or purchase a licence for additional advanced features.
The SEO Spider is a powerful and flexible site crawler, able to crawl both small and very large websites efficiently, while allowing you to analyse the results in real-time. It gathers key onsite data to allow SEOs to make informed decisions.
Find Broken Links
Crawl a website instantly and find broken links (404s) and server errors. Bulk export the errors and source URLs to fix, or send to a developer.

Audit Redirects
Find temporary and permanent redirects, identify redirect chains and loops, or upload a list of URLs to audit in a site migration.

Analyse Page Titles & Meta Data
Analyse page titles and meta descriptions during a crawl and identify those that are too long, short, missing, or duplicated across your site.

Discover Duplicate Content
Discover exact duplicate URLs with an md5 algorithmic check, partially duplicated elements such as page titles, descriptions or headings and find low content pages.

Extract Data with XPath
Collect any data from the HTML of a web page using CSS Path, XPath or regex. This might include social meta tags, additional headings, prices, SKUs or more!

Review Robots & Directives
View URLs blocked by robots.txt, meta robots or X-Robots-Tag directives such as 'noindex' or 'nofollow', as well as canonicals and rel="next" and rel="prev".

Generate XML Sitemaps
Quickly create XML Sitemaps and Image XML Sitemaps, with advanced configuration over URLs to include, last modified, priority and change frequency.

Integrate with Google Analytics
Connect to the Google Analytics API and fetch user data, such as sessions or bounce rate and conversions, goals, transactions and revenue for landing pages against the crawl.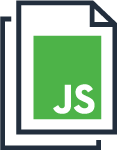 Crawl JavaScript Websites
Render web pages using the integrated Chromium WRS to crawl dynamic, JavaScript rich websites and frameworks, such as Angular, React and Vue.js.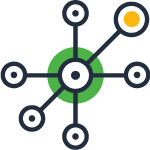 Visualise Site Architecture
Evaluate internal linking and URL structure using interactive crawl and directory force-directed diagrams and tree graph site visualisations.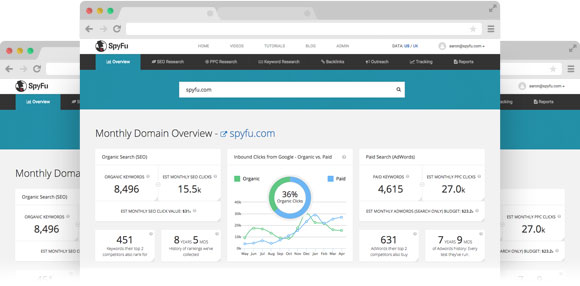 2. Spyfu
SpyFu exposes the search marketing secret formula of your most successful competitors.
Search for any domain and see every place they've shown up on Google: every keyword they've bought on Adwords, every organic rank, and every ad variation in the last 12 years.
Learn how to connect with these domains, too. Find online and traditional leads methods — social media, email, phone, and address — you can't find anywhere else.
Search for a competitor. See every keyword they've ever bought on Google and every ad test they've run. Make their successes your own and avoid their mistakes.
Increase your website traffic
Our smart recommendations drive clicks to your SEO or Adwords campaigns.
Track your keyword rankings
Monitor your paid and SEO rankings on Google, Bing and Yahoo.
Make Better Connections
Reliable contact info helps you build partnerships or generate sales leads.
Search for a competitor. See every keyword they rank on. Uncover the exact content and backlinks that lets them outrank you.
Search for a competitor. See every keyword they've ever bought on Google and every ad test they've run. Make their successes your own and avoid their mistakes.
Create your own custom list of domains. Filter by industry, location, ad spend, search traffic, social media, and technologies.
3. Majestic SEO
Majestic Seo will let you see key metrics to any site while talking on the phone. Their Firefox plugin and Chrome extension brings Majestic data right to where and when you need it, by bringing our valuable key metrics directly into your browser.
Instantly see whether a business prospect is worth considering by comparing up to 5 years worth of Backlink History data with those of the competition. Find out if your prospect is a 500lb gorilla, or if they are David fighting Goliath?
Grab instant link profile summaries to your heart's content without worrying about account usage. Our Site Explorer summary screen gives you JUST enough data to show interesting possibilities to your client in no time at all.
Need some visuals to help clients understand link profiles? Compare two sites at one time using their link profile chart. Let them fight it out and see which one comes out on top with the stronger link profile.
4. ahrefs
Ahrefs helps you learn why your competitors rank so high and what you need to do to outrank them.
Analyze your competitors' search traffic.
See the exact keywords for which your competitors rank in organic search and the amount of traffic driven by each of them.
Use the Top Pages report to see which pages send the most traffic to their sites. Use the Content Gap feature to uncover the keywords they rank for but you don't.
We have data for 150 million keywords in the United States alone (+ more for over 150 other countries), so you get the best possible coverage with Ahrefs.
Thousands of keyword ideas, keyword difficulty and advanced metrics
Get thousands of relevant keyword suggestions from our mammoth database of over 3 billion keywords. Use the Keyword difficulty score and our advanced keyword metrics to decide which keywords to target.
Keywords Explorer also shows you annual search volume trends and gives you some great insights into searchers' behavior and SERP ranking history.
The best backlink checker tool in the industry
Ahrefs is proud to run the world's largest index of live backlinks. Our robots constantly crawl 54 billion web pages, and every 15 minutes we update our index with the fresh data they report.
Put any website or URL into Site Explorer to see all its backlinks and some useful SEO metrics.
Advanced reports and handy filters let you dig real deep into the data that we have for you.
Research what content works well in your niche
Put any keyword into this tool to see which content has performed best in terms of social buzz, number of backlinks and organic search traffic.
Find all articles that mentioned your target keyword and use the "Highlight unlinked domains" feature to see which of these websites have never linked to you.
Get accurate location-specific ranking reports
We track your desktop and mobile keyword rankings from any location and plot your full ranking history on a handy graph.
You can set up automated ranking reports to be sent to your email address, so you'll never forget to check your ranking progress.
5. Longtail Pro
Uncover Long Tail Keywords in Minutes
To Rank Your Pages High in Google
Long Tail Pro helps you easily find less competitive keywords that can get you tons of high-converting online traffic regardless of your niche.
Long Tail Pro helps you find thousands of long tail keywords you can rank for.
Get Long Tail Keyword Ideas from Head Terms
With Long Tail Pro, all it takes is a single seed keyword to get up to 400 long tail keywords within seconds.
Need to find keywords that meet your preferences fast?
No problem — just create filters based on your average CPC bid, search volume, rank value, and many more. Say goodbye to never-ending spreadsheets and simplify your keyword selection process!
Check Out What's Working for Your Competitors
Sometimes, the best way to do keyword research is to let your competitors do all the work.
By switching to the Competitor Keywords mode, you start with a competitor's page or domain URL and watch as Long Tail Pro dissects their keyword strategy. Compare the keyword suggestions using all the metrics that matter.
Skip the number crunching and get straight to keywords that are proven to work!
Get to Know Your Keywords More
Already got the keyword you need?
Be sure it leads to profitable results. Use Long Tail Pro to pull up keyword metrics in an instant and understand how well it'll work for your campaign.
Up to 200 manual keyword entries can be done at a time — nothing to slow you down!