PPC Tools
Google Ad Performance Grader
SEMrush PPC Toolkit
Kenshoo
Wordstream PPC Advisor
Optmyzer
Dash This
Spyfu
1. Google Ad Performance Grader
Google Ads Performance Grader is a free AdWords tool to help AdWords advertisers better understand how well their campaigns are performing compared to PPC best practices. The Google Ads Performance Grader uses a proprietary grading algorithm based on more than 60 different factors, including ad spend data, Quality Score, ranking, impressions and other variables.
Your Google Ads Performance Grader report includes an overall grade as well as individual grades in ten key areas of pay-per-click management:
Wasted Spend – Are you making proper use of negative keywords? Or are you wasting hundreds, even thousands of dollars per month on irrelevant keywords that never convert?
Quality Score – Are your campaigns Google-approved? High Quality Scores have a major impact on your ROI, improving your rankings and lowering your costs.
Impression Share – How often do your ads appear as a result of relevant search queries? Increased impression share can improve exposure and multiply your lead generation results.
Click-Through Rate (CTR) – CTR is a measure of how targeted your ads are. If your CTR is low, you may be losing ground to competing advertisers.
Account Activity – To maintain performance, you need to spend active time in your account. How often are you checking under the hood?
Long-Tail Keyword Optimization – Are you utilizing longer, more targeted keywords in your campaigns? If not, you're missing opportunities to grab high-intent, low-cost traffic.
Ad Text Optimization – Are you writing enough text ads to get strong performance in terms of impressions, clicks, CTR and ad ranking?
Landing Page Optimization – More landing pages usually means more targeted messaging. Do you have more or fewer landing pages than similar advertisers?
Mobile Advertising – With mobile traffic growing at 200% each year, it's crucial to stay on top of mobile PPC best practices like call extensions, sitelinks, and mobile-optimized text ads.
PPC Best Practices – Are you adhering to the proven best practices that PPC experts follow to ensure optimal AdWords performance?
You'll learn how well you're really doing in each of these important areas, as well as how you could improve your performance, driving more leads and sales at lower costs.
2. SEMrush PPC Toolkit
Discover the tools that will help you plan, analyze and improve your AdWords campaigns.
Use previously created lists, generate keyword combinations in a click, or get new keyword ideas from SEMrush reports.
Filter out irrelevant keywords
Use advanced filters to find the right keywords based on CPC, volume, difficulty level and other metrics.
Export your keyword lists to AdWords-compatible .csv or .xls files
Reveal your main paid search competitors
See the keywords they are bidding on
Discover examples of their live ads
Benchmark competitors against each other
Quickly estimate their PPC spends, keywords and traffic volume
Compare up to 5 domains at a time
Export your charts to share your research with clients and teammates
Find keywords targeted by your competitors
but not you
Uncover opportunities to skyrocket your ROI
Research keywords in organic results, paid results, and PLA (Google Shopping) campaigns
Design and optimize your Google AdWords campaigns
Set match types, clean keywords, remove duplicates
Save money by removing conflicting keywords
3. Kenshoo
Make easy work of daily campaign management tasks with Kenshoo's operations at scale, scheduled actions, and campaign mirroring. Make mass changes in seconds and automate tasks across your campaigns, audiences, and creative. Mirror campaigns to new locales, test campaigns, and publishers in seconds. Gain valuable time that can be used to improve your strategy, performance, and messaging
insights and experience enable you to make smarter decisions at scale about where to place your bets – within and across ad types, business units, and media platforms. Our advanced tracking and reporting capabilities help you better understand the customer journey across channels and with Kenshoo Search you can analyze millions of keywords in seconds. Combined, you'll can get answers and take action quickly.
4. Wordstream PPC Advisor
WordStream Advisor makes it easy to:
Manage AdWords, Bing & Facebook
Manage bids
Improve quality score
Identify negative keywords
Build out campaigns
New: Improved Facebook Advertising Features
Research new keywords
Track calls and conversions
Report on campaigns
Create optimized landing pages
Optimize ads, and more!
5. Optmyzer
Enterprise-grade search marketing tools, scripts, and workflows without the hefty price tag.
Get all your optimizations for multiple accounts done in minutes with Optmyzr Express
Build completely custom workflows with your favorite optimizations in Account Workouts
Know what was changed by who with full Optimization History
6. Dash This
One system, one dashboard report, all your PPC and SEM reporting tools
You optimize your paid media and search marketing campaigns, but it's important that you understand your success and see your ROI accurately. That's where our SEM & PPC reporting software comes in – gather all your reporting tools into one automated dashboard!
Your paid marketing strategies cover a multitude of web platforms that all work together simultaneously to get you the maximum amount of traffic. We know the pain of retrieving your data from every one of those platforms all the time. Instead, link all of your SEM & PPC reporting tools to DashThis, and we'll do the data-fetching for you! We'll even send out your reports automatically: just create your mailing lists and you're done!
You know all the KPIs you need to track: cost-per-click (CPC), cost-per-acquisition (CPA), impressions, return on investment & return on ad spend (ROI & ROAS), conversion, conversion rate, way more. By using our preset widgets, or creating your own custom widgets, you can see all your pertinent data in one single report!
Show your search engine marketing and pay-per-click data exactly the way you want. From adding your own logo, including comments, and merging data from several widgets into one, you can customize your PPC & SEM reports from the dashboard level all the way to each individual widget.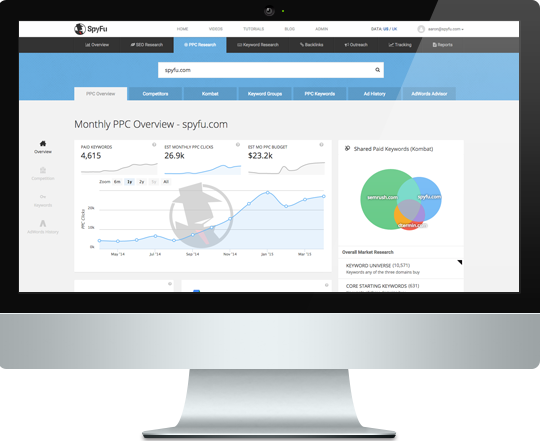 7. Spyfu
Your AdWords strategy deserves a focus all its own. Here, you can move through the most important PPC findings inside SpyFu. Learn from the ads competitors have been testing for years.
Drive your paid keyword strategy with already-tested insights
Find any site's paid keywords and ad spend history
Zero in on critical sets of keyword weaknesses and wins
Drill into specialized areas like ad copy and keyword groups
Use top-level highlights to decide where to research further
When you search your own site, you can instantly see the high priority keywords your site is missing and uncover ad copy that wins test after test.